Christian Nesmith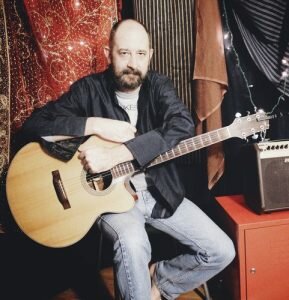 Christian Nesmith, raised in a musical family, was given the opportunity to learn and develop his playing and love for music from the moment he was able to reach the piano. A Los Angeles native, Christian's abilities as composer, guitarist, producer, and engineer reflect his knowledge and capability to deliver quality and creativity with skill.
Christian has produced many independent artists and has placed songs in both Film and TV (Blades of Glory, The Hills Have Eyes, Lionheart) all the while either playing and or composing many commercials for companies such as AOL, Budweiser, Chevron, Chevrolet, Burger King, Citibank, ESPN, Infinity, Pennzoil, Mercedes Benz, Nissan, Starbucks, SBC, among dozens of others. Christian has toured and played with a variety of artists such as Air Supply, Debbie Peterson of the Bangles, Doug Pinnick of King's X Poundhound, Vox Lumiere a Silent Movie Rock Stage Show, his partner Circe Link. his father Michael Nesmith and The Monkees.
Additionally Christian's theatre credits include musical director of the first ever production of HAiR in Moscow, Russia produced by Stas Namin, and the musical director of The LA Weekly's 2007 Best Musical of the Year HAiR produced by Michael Butler, Rocky Horror and The LA Weekly's 2008 Nominated Best Musical of the year Hedwig.
Christian teaches music, band and History of Rock. He is also available for tutoring on a guitar, base, keys and drums. To request private lessons with Christian, click here.